Some people incorrectly believes that Black art is still a second rate market controlled by various groups with origins from the 1960's Black Arts Movements, but Black art has evolved into many multimillion dollar corporate entities with several world renowned museums, high end art galleries, and many profitable art fairs throughout North America, while many BAM. members have transitioned into new careers as well.  
With the help of Black Art In America the works of many Black artists will soon be on display at Art Basel which is the biggest art fair in the world. If you are fortunate enough to be there you will likely see some of the wealthiest collectors in the world along with some of the best art in the world, and a good representation of Black art thanks to Black Art in America and Art Africa. The following list contains power brokers and big art collectors who could change your career and some are very likely to be at Art Basel.
- Edwin Boone
Bernard Kinsey has served as past president of the FAMU-NAA. Bernard and Shirley Kinsey have contributed more than $350,000 in grants and gifts to FAMU. They reside in Pacific Palisades, Calif.
The Kinsey Collection contains more than 100 original and authentic historical artifacts, documents and works of art that tell a story of the African-American experience from the 1600s to the present
Dr. Walter O. Evans, named one of 'America's Top 100 Collectors' by Art & Antiques magazine
The Walter O. Evans Collection of African American Art spans more than 150 years of African American art and includes prized pieces by Bannister, Duncanson, Bearden, and Hunt. His collection contains over 500 pieces.
Robert L Johnson
Johnson is known for the cable channel that he founded, BET. Since the early 1980s Johnson, has assembled some 250 pieces by 19th- and 20th-century African-American artists.
Johnson's collection includes some of the most famous names in Black art.
Mrs. Vivian Hewitt, a New Castle native was the first black librarian in Pittsburgh. She made a mark in the world of African-American art with her late husband, John.

Through their travels, family connections and friends in New York, they amassed one of the most renowned collections of African-American art, which today serves as the cornerstone of the Harvey B. Gantt Center for African-American Arts+Culture in Charlotte, N.C.
Bill and Camille Cosby
William Henry "Bill" Cosby, Jr. is a comedian, actor, author, television producer, educator, musician, activist, and major Black art collector.
Paul R. Jones ( deceased, 2010)
Once considered one of the Top 100 art collectors in America.
Jones  amassed an important collection of Black art with over 2,000 pieces. A selection of his collection made its public debut in a 1993 exhibition at the University of Delaware. In 2001 Jones donated hundreds of the more valuable works to that University with several stipulations for how the school should leverage it to provide more opportunities for black students and art professionals. In 2008 he donated most of his remaining collection, 1,700 works, to the University of Alabama. Dr. Amalia Amaki is the Curator of the Paull R. Jones Collection of African American art at the University of Alabama at Tuscaloosa.
Grant Hill
Grant Henry Hill is an American professional basketball player
Hill owns a substantial collection of African-American art, centering on the work of Romare Bearden andElizabeth Catlett. A selection of 46 works from the collection were featured in a touring exhibition at a number of American museums from 2003 to 2006. The exhibition was last shown at the Nasher Museum of Art at Hill's alma mater, Duke University.
Dr. Harmon and Harriet Kelley, major collectors of African American Art since the mid-1980's


Darrell Walker is an American professional basketball coach and retired player. Mr. Walker is also a major collector of Black art.
Elliot Lamonte Perry is a retired professional basketball player in the NBA, and a major collector of Black art.

David C. Driskell, artist, collector, and emeritus professor of art history, University of Maryland at College Park. 
Robert E. Steele, PhD, has been the Executive Director of the David C. Driskell Center for the Study of the Visual Arts and Culture of African Americans and the African Diaspora at the University of Maryland, College Park since 2004. He is noted as one of the worlds Top Black art collectors.
Reginald Van Lee
Reginald Van Lee is an Executive Vice President with Booz Allen Hamilton where he leads the firm's healthcare business and its not-for-profit business.
Mr. Lee is a board member of the Studio Museum in Harlem. 
John T. Thompson '81
Chairman and CEO
Thompson Distribution Company
Indiana
Mr. Thompson is a Board member of the Studio Museum of Harlem.
Rodney M. Miller Sr.
Managing Director of Mergers & Acquisitions Group
J.P. Morgan
JPMorgan Chase & Co.
One of the Top 75 Most Powerful Blacks on Wall Street.
Board Member of the Studio Museum Harlem.
Raymond McGuire is the Co-Head of Global Investment Banking, based in New York. He has responsibility for managing the coverage of global industries and clients and executing strategic transactions. Mr. McGuire is a member of the Institutional Clients Group Management Committee and the Institutional Clients Group Business Practices Committee. He is also a member of Citi's Senior Leadership Committee. At Citi, McGuire has advised on transactions valued at more than $200 Billion, including representing Time Warner in its separation of Time Warner Cable ($45.0 Billion).
Mr. McGuire serves on several boards including the Studio Museum in Harlem (Chairman of the Board.)
Tracy V. Maitland
President and Chief Executive Officer
Ranked one of the  Richest African American in the World.
One of the 75 most powerful African Americans on Wall Street.
Board member of Studio Museum Harlem.
Nancy L Lane
Served for twenty-five years with Johnson & Johnson, Her career also includes heading MBA and Executive Recruitment at the Chase Manhattan Bank, a position with an international student organization in The Netherlands and serving as Deputy Director of Human Resources for the National Urban League. Currently she is on the Board of Directors of The Studio Museum in Harlem.
George L Knox
Retired vice president, corporate affairs for the Phillip Morris Company (now Altria Group, Inc.)
Knox is a member of and formerly chairman of the board of the Studio Museum in Harlem.
Sandra Grymes
Among her many accomplishments Ms.Grymes held five top level positions at Planned Parenthood, moving from the positions of director of long range planning, director of special projects, and, finally, marketing director. Ms. Grymes is a board member of the Studio Museum Harlem, adjunct professor, and served as a senior deputy commissioner in NYC.  
Gates on the left wearing glasses.
Henry Louis "Skip" Gates, Jr., (born September 16, 1950) is an American literary critic, educator, scholar, writer, editor, and public intellectual. He was the first African American to receive the Andrew W. Mellon Foundation Fellowship. He has received numerous honorary degrees and awards for his teaching, research, and development of academic institutions to study black culture. In 2002, Gates was selected to give the Jefferson Lecture, in recognition of his "distinguished intellectual achievement in the humanities".
Gates has hosted several PBS television miniseries, including the history and travel program Wonders of the African Worldand the biographical African American Lives and Faces of America. Gates sits on the boards of many notable arts, cultural, and research institutions. He serves as the Alphonse Fletcher University Professor at Harvard University, where he is director of the W. E. B. Du Bois Institute for African and African American Research. Gates is a board member of the Studio Museum Harlem.
Susan Fales- Hill
TV. producer,writer, actress and board member of the Studio Museum Harlem. 

Reginald E Davis
Company: Wachovia Corporation
Position: Head of the Northern Banking Group
Industry: Financial Services
Country: United States
Named as one of the "Top 75 Most Powerful African Americans" by Black Enterprise magazine.
Board member Studio Museum Harlem.
A partner in Venable's real estate group, Gordon J. Davis has more than four decades of experience advising public and private clients in connection with some of the most significant development projects in New York City. He is also a board member of the Studio Museum Harlem.
Joan K. Davidson
Joan K. Davidson, president emeritus of the JMKaplan Fund and president of the Fund's Furthermore grants in publishing. Born into a wealthy family, she is a board member of the Studio Museum Harlem.
Amelia Ogunlesi, Teri Trotter, Thelma Golden, Jacqueline L. Bradley, Kathryn C. Chenault, Joyce K. Haupt and Carol Sutton Lewis.
The above photo is a picture of board members of the Studio Museum Harlem with director and curator Thelma Golden. 
Not pictured here, Arthur J Humphrey Jr. is a board member of the Studio Museum Harlem, as well.
Kathryn Chenault and Kenneth I. Chenault
Kenneth I. Chenault is president and chief operating officer of American Express and a member of the Council on Foreign Relations. Ranked one of the Richest African American in the World.
Kathryn Chenault, presently serves on various boards including the Studio Museum of Harlem. She is a retired attorney.
Valentino D. Carlotti, works in the Institutional Client Group of Goldman Sachs' securities division.
Mr. Carlotti serves as a board member of the Studio Museum of Harlem.
Charles A. Shorter, Executive Director in the Transaction Advisory Service practice for Ernst and Young LLP, is a Trustee of The City University of New York. Mr. Shorter initially voted against an honorary degree for Tony Kushner, because Mr.Kushner has been critical of Israel.  
Mr. Shorter's longstanding community involvement includes service on the board of the Studio Museum in Harlem.
Anne Ehrenkranz is an art collector and a philanthropist.
Former board member, the Studio Museum in Harlem
Note: Donated untitled piece by Kara Walker to the Studio Museum Harlem.
Ranked #2nd Top American Art Collector
Ranked #5th  Top Art Collector in The World:
Paul Allen
Location:
Seattle
Employment:
Co found Microsoft
Founder and Chairman of Vulcan Inc., owns NFL, NBA, MLS teams
Art Collection:
Collects impressionism, Old Masters; modern and contemporary art; tribal art.
On October 26, 2008, Paul Allen was given the Herbie Hancock Humanitarian Award from the Thelonious Monk Institute of Jazz for his "visionary achievements as a businessman and a global philanthropist."
Allen has also funded the purchase of many Jimi Hendrix artifacts, including the guitar Hendrix played at Woodstock, and ensured their public display in the Experience Music Project exhibits.
A report in February, 2012, named Allen as the most charitable living American in 2011. Allen's donations, totaled $372.6 million. 
Ranked #62nd Top Art Collector in The World:
Antoine de Galbert
Location:
Paris
Employment:
Inheritance
Art Collection:
African Art, Primitive art; contemporary art
Ranked #113th  Top Art Collectors in The World:
Thomas H. Lee and Ann Tenenbaum
Location:
New York and East Hampton, New York; Lincoln, Massachusetts; Palm Beach, Florida
Employment:
Investment banking
Art Collection:
Modern and contemporary art; photography, Egyptian Art.
Note: Ann Tenenbaum is a board member at the Studio Museum Harlem.
Ranked #115th Top Art Collector in The World:
Joe Lewis
Location:
Nassau, the Bahamas
Employment:
Finance, investments, and currency trading. Worth 3.2 billion.
Art Collection:
Modern art, Ancient Egyptian artifacts. 
A friend of Tiger Woods, and wealthy enough to have Ancient Egyptian artifacts among his personal collection.
Ranked #117th Top Art Collectors in The World:
Adam Lindemann and Amalia Dayan
Location:
New York
Employment:
Private investments
Art Collection:
Contemporary art; African art; 20th-century design
Ranked #125th Top Art Collector in The World:
Allan Majotra
Location:
Californian 
Employment:
investment banker
collects non-Western contemporary art, in Spain.
Art Collection:
His non-conventional collection emphasizes famous and emerging Asian and African contemporary artists. He also collects outsider art, including works by contemporary non-traditional artists, such as architects and designers.
Ranked #126th Top Art Collectors in The World:
Sherry and Joel Mallin
Location:
New York and Pound Ridge, New York
Employment:
Investments
Art Collection:
African American art, Modern and contemporary art, especially sculpture.
Note: Donated portrait of Ornette Coleman by Frederick J. Brown to the National Museum of American History.
Ranked #146th Top Art Collector in the World:
George Ortiz
Location:
Vandoeuvres, Switzerland
Paris, France
Employment:
investments
Art Collection:
collects antiquities, tribal art, including African, 15th century italian art, 18th century European art
 Michael Ovitz and Wife Judy 
Ranked #147th  Top Art Collectors in The World:
Judy and Michael Ovitz
Location:
Los Angeles, California
Employment:
entertainment
Art Collection:
collects contemporary art, Ming furniture, modern paintings, African art
owns an early 20th century Abua water spirit mask from Nigeria
Ranked #175th  Top Art Collectors in The World:
Mera and Donald Rubell
Location:
Miami; New York; Washington
Employment:
Medical practice (retired), education, real estate, and hotels; own public contemporary-art foundation The warehouse collection in Miami, contains 1,500 pieces by artists including Keith Haring, Peter Halley, Damien Hirst, David Salle and Cindy Sherman, as well as locals such as 62-year-old African-American folk artist Purvis Young (deceased), a representation of every major influence in contemporary art over the last three decades.
Art Collection:
Contemporary art
Ranked #180th Top Art Collectors in The World:
Ida and Piet Sanders
Location:
Schiedam, the Netherlands
Employment:
Law practice (retired)
Frequently donate large portions of their collection to Dutch modern art museums. Piet Sanders is interested in architectural models often donating models and other things he has purchased to the NAI. Sanders regularly offers items from his collection to supplement the NAI's own strategic acquisitions
Art Collection:
Modern and contemporary art, especially sculpture; African art.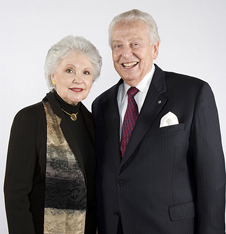 Ranked #208th Top Art Collectors in The World:
Toby and Joey Tanenbaum
Location:
Toronto; Naples, Florida
Employment:
Real estate and hydroelectric power
Art Collection:
African art; naive art; Mayan art
Agnes Gund and Daniel Shapiro
Top 40 New York Art Collectors
President Emerita, MoMA.
Art Collection:
Contemporary art, African art, Chinese art