presents
The Struggle Continues...
HISTORY UNFOLDS 
MIXED MEDIA PAINTINGS,
SERIGRAPHS & COLLAGES
February 14, 2013 - April 8, 2013
THIS WEEKEND:  
TWO GREAT OPPORTUNITIES TO MEET THE ARTIST
2nd Friday - March 8, 2013
Matinee
- 1:30 PM - 3:30 PM
Don't drive at night? Have young children?  
Join us for a special reception for the young at art :)
Art Night
- 5:00 PM - 8:00 PM


ART TALK: Frank Frazier Speaks 
Saturday, March 9, 2013
  | 11:00 AM
Don't miss this amazing opportunity to meet Frank Frazier,
learn about his creative process and historical and cultural influences 
___________________________________________________________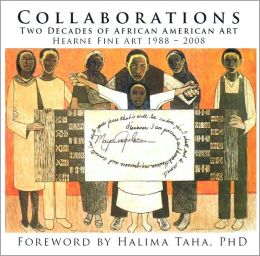 FRAZIER IS A FEATURED ARTIST 
in
Collaborations:
Two Decades of African American Art,
 Hearne Fine Art: 1988-2008 

Bring your copy for  
Frank Frazier's signature!

Additional copies available for purchase  
"Power to the People"
Frank Frazier
Medium: Mixed Media - Shoe Polish/Paper
Size: 26" x 40"
On the shoe polish series...
During his path as an artist, many of Frank Frazier's works have been interpretations of and responses to the Civil Rights movement.
Mr. Frazier feels it's important that the visual arts serve as a vehicle to preserve the struggle for our children, ourselves and the future. Artistic expression is Frazier's contribution to the remembrance of the
strength and tenacity of the race. Works like
The Little Rock Nine
,
The Sit In
, and T
he Million Man March
 are all a part of his latest series which is done with shoe polish and a mixture of ink.

In the 30s and 40s, shoe polish was
used to create blackface,

a form of theatrical makeup used in minstrel shows, and later vaudeville, in which performers create a stereotyped caricature of a black person.

Frank has appropriated shoe polish in this new series as a away of reclaiming and empowering the African American image.
A Change Is Gonna Come!
View more works from Frazier's shoe polish series
HERE